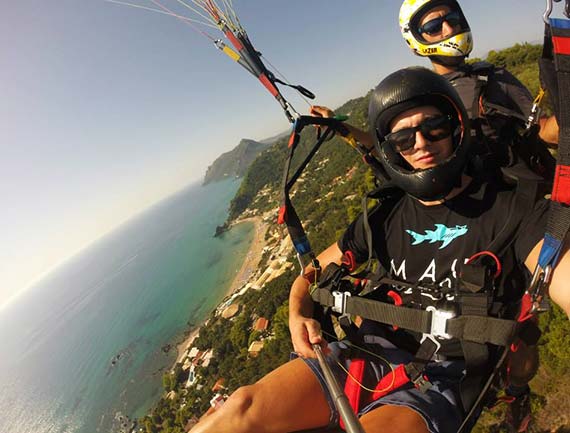 PARAGLIDING IN CORFU
Have you ever wondered what Corfu looks like from a 360 meters altitude? Would you enjoy flying over a beautiful landscape while feeling the adrenaline in your body?
If your answers were yes in both cases, paragliding is ideal for you. Make the most of your summer holidays and get ready to fly. The flights take place in Agios Gordios or Kontogialos beach and after a short course on safety and measures, you will be ready to fly together with the professional instructor who has more than 10 years experience in the field.
Ask us about our special offers today! Don't miss the opportunity to see the world from a different angle.
WATER SPORTS ACTIVITIES
No trip to Corfu is completed without the water sports experience. Located in the beach of Avlaki, in the north eastern part of Corfu Island, the Corfu Sailing Centre was established in 1995 and offers a variety of activities that guarantee to make you very excited.
A variety of equipment is available in sailing dinghies, windsurfing boards, kayaks and stand up paddle boards. Introductory and three days courses program in sailing and wind surfing are available and even additional instruction and practice can be purchased. Reserve your spot today and let the water sport experience begin.