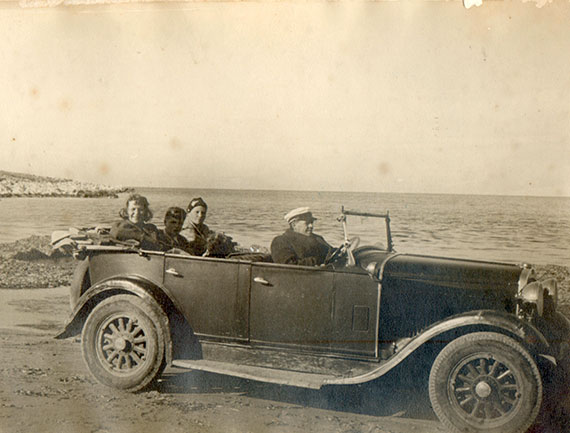 SPIROS "AMERIKANOS" CHALIKIOPOULOS
Spiros "Americanos" was born in 1892 and raised in the suburb of Kanoni, south from Corfu Town. In 1920, as it was becoming increasingly common for young Greeks, he and his brothers made the long journey to the United States, seeking for a better future in a country that offered them opportunity for adventure and work as well as the means to provide for their family in Corfu.
In the United States, the brothers worked very hard in a wide diversity of jobs, from Boston's produce markets to the oil fields in Alaska. In the early 1930's, as America plunged into the Great Depression, the brothers decided to return home, except for Yannis, who got married and became a policeman.
Back in Corfu, Spiros acquired the nickname "Americanos", which means American in Greek. He brought his Dodge car all the way from the United States and he was the first person to have a car on Corfu Island. This is how he came across the Durrell family and began his taxi driving career.
Through Spiros Americanos' intimacy with the family, his son Michalis became close to Gerald, Leslie and Lawrence Durrell and enduring after his father's death from pneumonia in 1940, he enjoyed a longstanding relationship with them. He also made several friends since the Durrells had numerous guests on the island.
These include the controversial American author Henry Miller and the English novelist Mary Stewart. The latter made a dedication to Michalis in the Corfu set novel mentioning that "Among the many debts I have incurred while writing this book, two are outstanding.
I should like to thank especially Mr Michael Halikiopoulos, Director of the Corfu Tourists Services for all his kindness and for the help he gave me" (This Rough Magic, 1964).