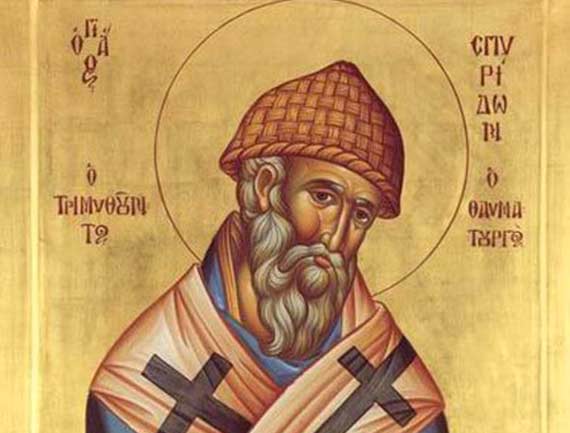 Saint Spyridon was born during the 4th century in Askeia, Cyprus. He was married, had a daughter, Irene and was working as a shepherd. When his wife died, he decided to dedicate his life to God and was chosen to become the bishop of Trimythous. He was known for his devotion to God, his love for the people, his simplicity and his humility. Most importantly though, he is known and respected in both the Western and Eastern churches for the variety of miracles that he performed, including resurrections of the deceased.
Saint Spyridon passed away peacefully on the 12th of December, 348 and this is the day that our church honors his memory.
It is a remarkable fact that his Holy body remained imperishable, apart from his right hand. Even more remarkable is the fact that his relic maintains the temperature of a living body.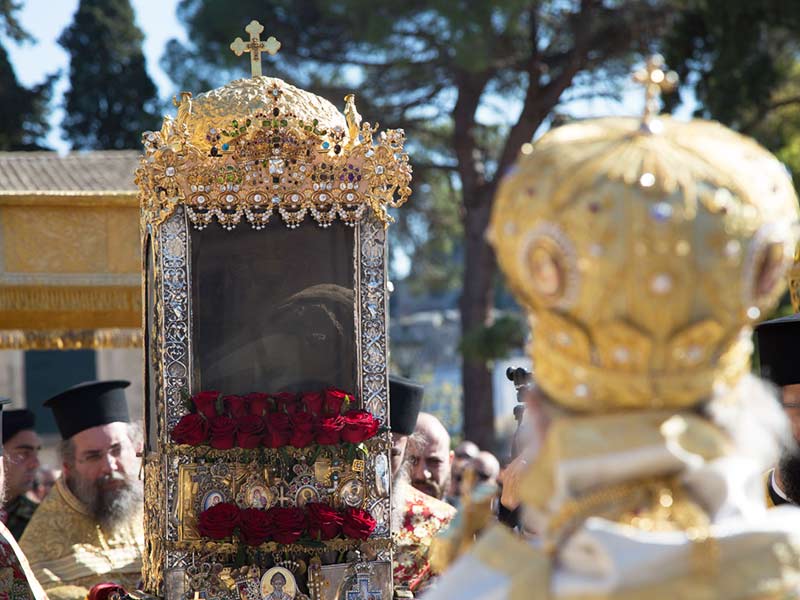 His relics remained in Cyprus until the 7th century before they were moved in Constantinople. Right after the fall of the city, his Holy body along with Saint Theodora's relics were moved once again from the Priest Georgios Kalohairetis and reached the island of Corfu.
Initially, the relics were placed in the temple of Saint Athanasios. Georgios' son, Markos, inherited the relics of Saint Theodora and donated them to the Corfiot community in 1483.
The Corfiots honor and worship Saint Spyridon and consider him the Keeper of the City. This explains why every family in Corfu has a member named after the Saint.
The island managed to overcome many difficulties due to his ultimate protection. In 1553, Saint Spyridon saved the island from the famine, in 1630 he saved the island from the plague before saving it once more in 1673. In 1716 he also prevented the siege of the Ottoman Empire.
Apart from these, Saint Spyridon also performed many miracles, like giving back his sight to Theodoros', a merchant from the East, who had lost his sight completely. In Corfu, we celebrate Saint Spyridon as following:
Palm Sunday: The litany is dedicated to Saint Spyridon for saving the island from the plague the first time.

Holy Saturday: The litany is dedicated to Saint Spyridon for saving the island from the famine.

11th of August: The litany is dedicated to Saint Spyridon for not allowing the Ottoman Empire to siege Corfu.

13th of July: The church remembers Saint Spyridon's miracle, which gave back Theodoros' his sight.

The 1st Sunday of November: The litany is dedicated to the second time Saint Spyridon expelled plague from the island and saved the island's inhabitants.

12 of December: Corfu celebrates Saint Spyridon's memory and together with the Protector's memory we celebrate all the men and women named Spyros or Spyridoula.